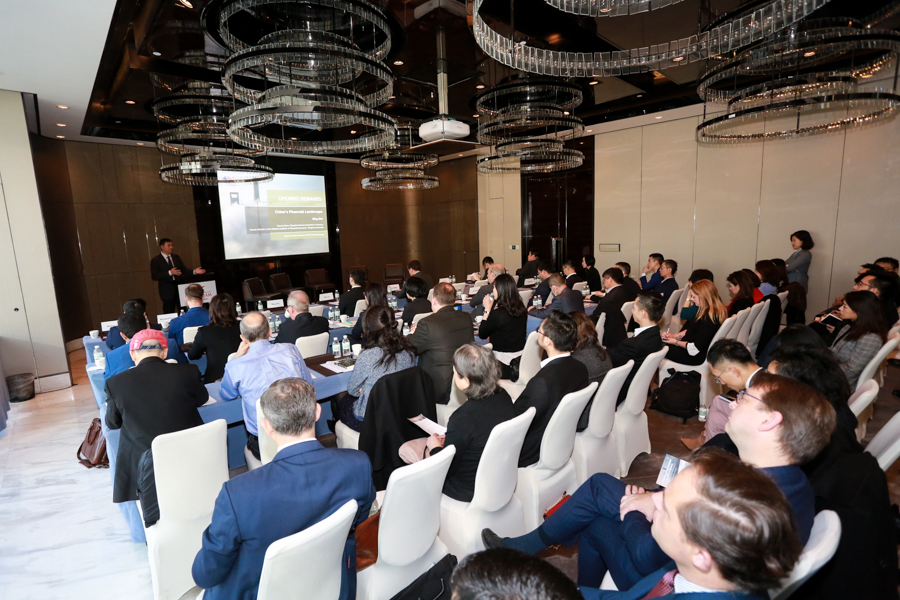 Last week, American Chamber of Commerce (AmCham) Shanghai hosted a full-day Financial Services Conference to explore the trends and opportunities surrounding China's innovation in financial services, capital markets, and financial technologies (FinTech) on a global scale. The conference was organized by AmCham's Financial Services Committee, serving as the primary body to provide a community for Multinational Banks, Insurance Companies, and an increasing number of PE, Hedge funds, and members from China's booming startup community.
Henry Wang (President of IPwe China Operations) served as panelist during the Conference, enabling discussion and fielding questions from global investors, financiers, and representatives from some of the world's largest financial institutions and service providers. This year's topics focused on China's Financial Landscape, including a myriad of issues surrounding Asset Management, Commercial Banking, Innovation in the Financial Space, China's Payment Ecosystem, and the evolution of China's Insurance Market.
Fin-Tech – How Far? How Fast?
"Fin-Tech – How Far? How Fast?" served to highlight the Conference's theme of defining the future of financial services in China and its impact on a global scale. Henry Wang highlighted the speed to market and 'patent velocity' becoming the ultimate competitive advantage, domestically in China and in the global technology arena – and how this shift in priority has reshaped the importance of intellectual property on a global scale.
"As the fintech market comes under tighter regulation with a focus on reining in risk, companies need to remain vigilant while operating in any regulatory "grey areas," particularly as a firm's favor with state regulators can change quickly. The use of digital currency will allow for greater ease in cross-border payments, with the challenge being to ensure secure and compliant digital transfers."

–Amcham Shanghai
China's Blistering Pace of Innovation
During the conference, Henry Wang commented on the fast-changing role of IP in China – predominantly the role patent ecosystem in the country's accelerating pace of innovation, saying: "The central government of China has full realized that IP assets are becoming an increasingly important asset class in the digital era, and China's IP strategy focus is currently undergoing a big change from pursuing quantity to improving quality. In addition, 2021 is the opening year of China's 14th Five-Year Plan, which will witness a lot of very big changes in China's IP system construction. We are already working with several regional governments on the planning and implementation of fin-tech innovations using IP innovation as a breakthrough point."
Han Lin, IPwe's China Strategic Consultant and AmCham SH Board of Governors, expressed thanks on behalf of the Chamber after receiving positive feedback from Conference attendees, stating that the event "opened everyone's mind to the China Fintech market development."
For more information on upcoming AmCham Shanghai conferences and events, please visit AmCham Shanghai | Events.